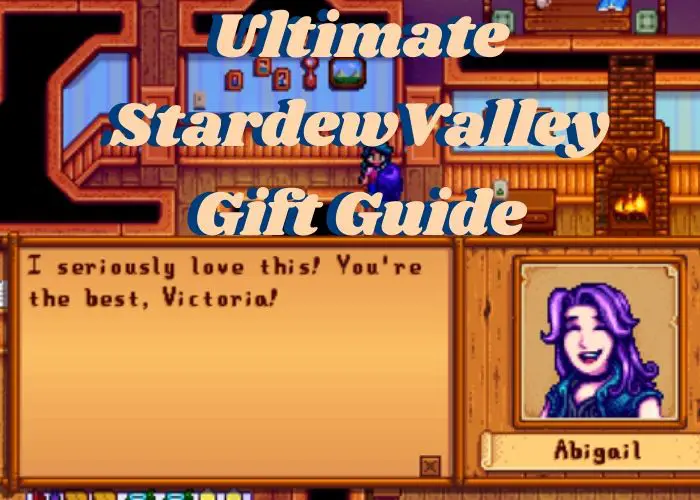 Got a bachelor/ bachelorette that you are going after in Stardew Valley and need to know what gifts to give them? Well, you are in luck! This Stardew Valley gift guide will let you know the best Stardew Valley gifts. (If you are looking for real life gifts for your Stardew Valley Fan, check out Gift Ideas for a Stardew Valley Fan post.)
Why are Stardew Valley Gifts Important?
Gifts are important because the right gifts can increase your hearts with the NPCs. The wrong gifts, however, will decrease the hearts with the NPCs. Gift giving is the fastest way to increase your status. Talking to them every day increases their status slowly. 
Keep in mind that you can only give the NPCs gifts twice a week. Also the gift earns more points if it is a loved item versus a liked item. Gifts are worth more on the NPCs birthdays as well. 
The reason why you would want to be friends with the NPCs is so that you can date/marry the bachelors/bachelorettes, receive items in the mail, gain access to services and quests and view heart events. In order to give someone a gift, make sure the gift is highlighted in your active bar and you can see your character holding the gift above their head.
Clues for Stardew Valley Gifts
Unlike My Time at Portia, it's actually quite easy to figure out the NPCs favorite gifts in this game. Finding the secret notes is one way. Also, the NPCs will mention their friends' or family's favorite or least favorite items.
For instance, if you are friendly enough with Sebastian, he will tell you that Sam hates mayonnaise. 
The NPCs' own dialogue can give you a hint too. Linus will tell you that he likes to find food in the wild and Leah says that you can find food to forage nearby her house and you can turn it into a salad. Also, their professions can be a hint as well. Robin is a carpenter and hates stone, for example. 
Stardew Valley Gift Guide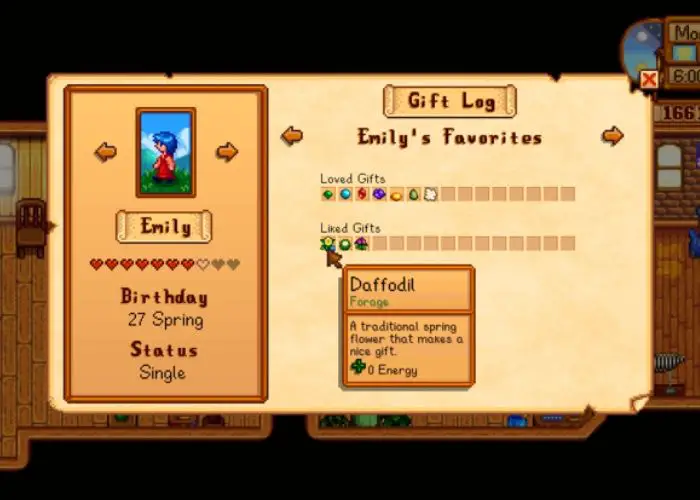 This Stardew Valley Gift Guide is made from information complied from my 3 different playthroughs and wiki as a resource for the universal Stardew Valley gifts. If you need to remember what gifts you gave them in the past that worked or learned from the NPCs and/or secret notes, you just go to the relationship tab and click on their portrait. 
You may want to try to get your romantic interest to be your partner at the first flower festival, so you will probably need to know this information now, rather than later. So here it is!
Universal Stardew Valley Gift
There are gifts in Stardew Valley that are universally loved, liked, tolerated, disliked, and hated. However, there are exceptions to these rules.
For example, everyone except for Sam hates Joja Cola. He actually likes it. 
According to the wiki, these are the best universal Stardew Valley gifts.
Universal loves:
 Golden Pumpkin
 Magic Rock Candy
 Pearl
 Prismatic Shard (Haley hates this)
 Rabbit's Foot (Penny hates this)
Stardew Valley Universal likes:
Gems (Linus, Leah, and Pierre dislike all but diamond and prismatic Shard)
Vegetables (except Hops, Tea Leaves, Unmilled Rice, & Wheat. Haley, Jas, Sam and Vincent dislike all universal vegetables. Pierre hates corn and garlic. Jodi dislikes Garlic.)
Artisan Goods (except Void Mayonnaise and oil. Sebastian and Jas hates most Artisan Goods. Sam hates all mayonnaise)
Life Elixir
Maple Syrup
All Fruit Tree Fruit (Elloitt loves Pomegranate)
All Forged Minerals (except Quartz. Sam and Leah hate most forged minerals and Linus and Pierre hate all forged minerals.)
All Flowers (except Poppy. Sandy loves Sweet Pea and Crocus. Caroline loves Summer Spangle. Haley loves Sunflower. Jas loves Fairy Rose. Clint dislikes all flowers but Poppy)
All Cooking (except Bread, Strange Bun, Fried Egg, and Seafoam Pudding. However many people dislike and hate a lot of food dishes, so I would recommend just giving the NPCs ones that I mention below. )
If you need more detail on the universals, you can look at the wiki page. I posted the universals loves and likes in case you needed it. I prefer to stick with what I know works since the are so many exceptions to remember. Besides, who in the world is going to give away a prismatic shard anyway?
Below are the Stardew Valley gifts that I have given the NPCs.
Abigail
She is the daughter of Caroline and wants to on adventures.
Abigail loves:
Amethyst
Blackberry Cobbler
Chocolate Cake
Pumpkin
Spicy Eel
She likes:
Sweet Pea
Quartz (she mentions that she is hungry when you give her one.)
Alex
He is a very athletic person who wants to be a professional gridball player.
Alex loves: 
Complete Breakfast
Salmon Dinner.
He likes: 
Egg
Duck Egg
potato
Cauliflower
Caroline
She is the mother of Abigail.
Caroline loves: 
She likes:
Daffodil
Parsnip
Sweet Pea
Tea Leaves
Clint
He is the blacksmith who hates his job.
Clint Loves:
He Likes: 
Parsnip
Cauliflower
Potato
Demetrius
He is the father of Maru and a scientist.
Demetrius loves:
Bean Hotpot
Rice Pudding
Strawberry
He likes: 
Spiceberry
Sweet Pea
Potato
Cauliflower
Dwarf
He is the only dwarf who lives at the mine entrance.
Dwarf loves:
He likes:
Dwarf Scroll 1
Dwarf Scroll 2
Dwarf Scroll 3
Dwarf Scroll 4
Dwarvish Helmet
Dwarf Gadget
Elliott
He is the writer who lives on the beach.
Elliott loves:
Pomegranate
Crab Cakes
Lobster
He likes:
Grape
Sweet Pea
Wild Plum
Blackberry
Bean Hotpot
Fairy Rose
Amethyst
Emily
She loves to make clothes and is a very creative person.
Emily loves:
Emerald
Aquamarine
Ruby
Amethyst 
Topaz
Jade
Wool
She likes:
Daffodil
Cauliflower
Sweet Pea
Evelyn
She is the grandmother of Alex.
Evelyn loves:
She likes:
Daffodil
Sweet Pea
Crocus
Earth Crystal
Potato
Summer Spangle
George
He is the grandfather of Alex.
George loves:
He loves:
Daffodil
Potato
Cauliflower
Parsnip
Gus
He is the Stardrop Saloon Owner.
Gus loves:
Gus likes:
Cauliflower
Mayonnaise
Daffodil
Potato
Fairy Rose
Haley
She is Emily's sister and loves shopping.
Haley loves: 
She likes: 
Daffodil
Amythest
Fairy Rose
Summer Spangle
Harvey
The only doctor in town.
Harvey loves:
He likes:
Dandelion
Sweet Pea
Spring Onion
Daffodil
Jas
She is Shane's Godchild.
Jas loves:
Pink Cake
Fairy Rose
Plum Pudding
She likes:
Sweet Pea
Tulip
Summer Spangle
Jodi
She is Sam's and Vincent's Mom.
Jodi loves:
Pancakes
Crispy Bass
Eggplant Parmesan 
She likes:
Parsnip
Cauliflower
Bok Choy
Sweet Pea
Potato
Summer Spangle
Kent
He is Sam's and Vincent's dad.
Kent loves:
Roasted Hazelnuts
Fiddlehead Risotto
He likes:
Daffodil
Salmonberry
Cherry
Potato
Orange
Krobus
He is the shadow person who lives in the sewer.
Krobus loves:
Iridium Bar
Void Mayonnaise
Void Egg
He likes:
Lewis
He is the Mayor of Pelican Town.
Lewis Loves:
Hot pepper
Autumn's Bounty
Glazed Yams
He likes:
Cauliflower
Potato
Summer Spangle
Linus
He lives in a tent in the mountains to be one with nature.
Linus loves: 
He likes:
Daffodil
Wild Horseradish
Leek
Spring Onion
Dandelion
Grape
Salmonberry
Marnie
She owns the ranch.
Marnie loves:
Diamond
Pumpkin Pie
Farmer's Lunch
She likes:
Potato
Fairy Rose
Cauliflower
Maru
She is the daughter of Demetrius and a tinkerer.
Maru loves:
Diamond
Pepper Poppers
Gold Bar
Iridium Bar
Strawberry
Battery Pack
Cauliflower
She likes: 
Sweet Pea
Crocus
Quartz
Amythest
Pam
She is the bus driver and Penny's mom.
Pam loves:
Parsnip
Glazed Yams
Beer
Mead
Pale Ale
She likes: 
Sweet Pea
Potato
Cauliflower
Daffodil
Penny
She is the teacher in Pelican Town and Pam's daughter.
Penny loves:
Emerald
Poppy
Melon
Tom Kha Soup
She likes:
Dandelion
Sweet Pea
Potato
Parsnip
Cauliflower
Pierre
He owns the general store.
Pierre loves:
He likes:
Daffodil
Dandelion
Parsnip
Sweet Pea
Potato
Fairy Rose
Robin
She is the mother of Maru and Sebastian.
Robin loves: 
She likes:
Potato
Fairy Rose
Cauliflower
Sam
The brother of Vincent. He dreams of having his own band.
Sam loves:
He Likes: 
Joja Cola
Egg
Duck Egg
Sweet Pea
Sandy
She owns the store in the desert.
Sandy loves: 
Daffodil
Crocus
Sweet Pea
She likes:
Quartz
Cherry
Grape
Blackberry
Sebastian
He is Robin's Son.
Sebastian loves:
Sashimi
Pumpkin Soup
Frozen Tear
He likes:
Shane
He is Marnie's nephew.
Shane loves:
Pizza
Pepper poppers
beer
Hot peppers
He likes:
Egg
Duck Egg
Potato
Cauliflower
Parsnip
Vincent
He is Sam's brother.
Vincent Loves:
Cranberry Candy
Pink Cake
He likes:
Daffodil
Fairy Rose
Summer Spangle
Willy
He is the fisherman who owns the bait shop.
Willy loves:
He likes:
Trout Soup
Potato
Cauliflower
Parsnip
Wizard
He is the only wizard in the forest.
Wizard Loves:
Solar Essense
Void Essense
He likes:
Potato
Quartz
Parsnip
CauliflowerS
That's all the Stardew Valley Gifts
Ready to woo your romantic interest with presents or have Krobus become your roommate by showering him with presents? After knowing the best Stardew Valley gifts, you should be.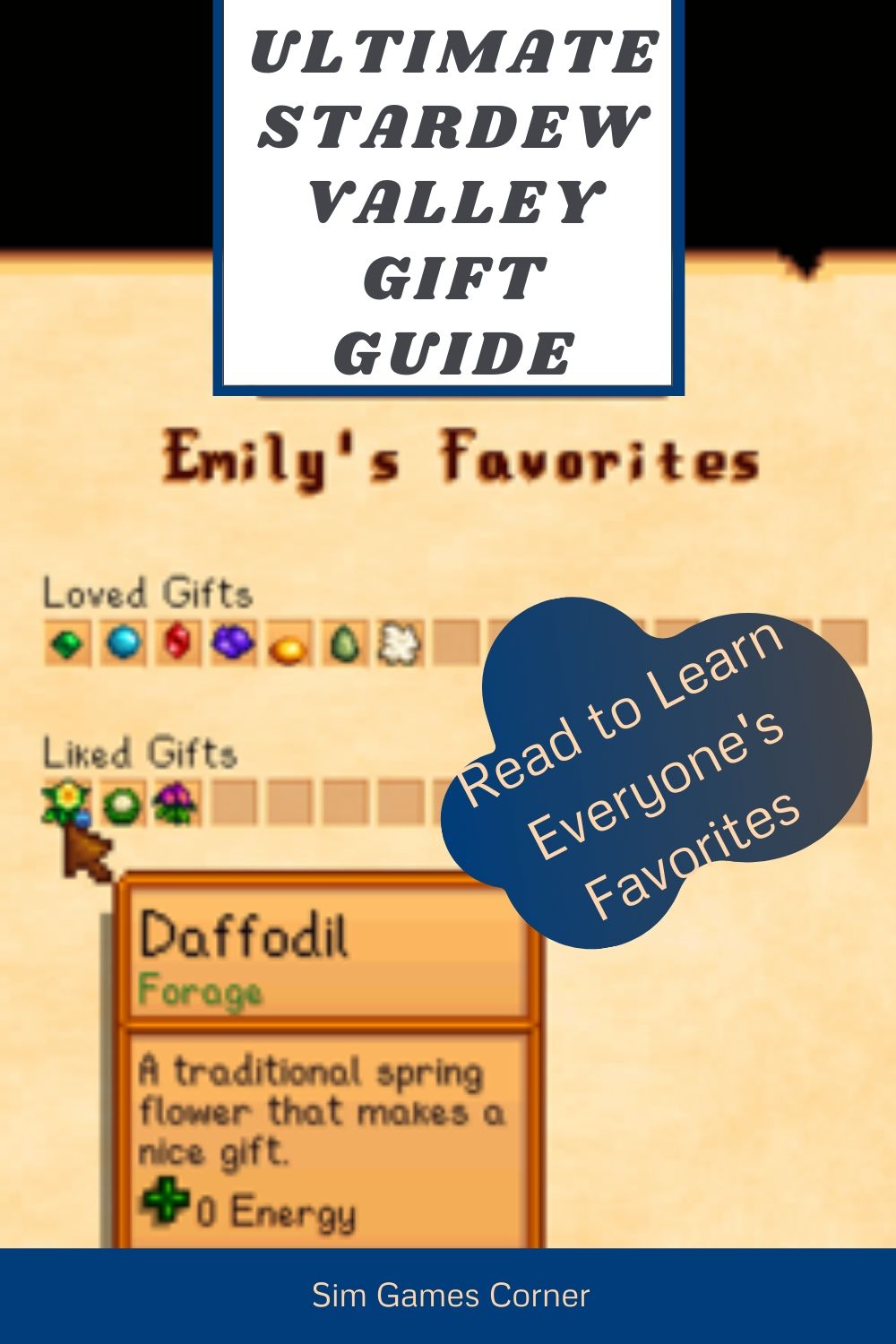 Pin Me!!
Share this post with your friends so that, they too can make friends in Stardew Valley. Please subscribe to the newsletter to keep up to date, read "13 Things I Wish I Knew about Stardew Valley" if you haven't yet, and I'll see you next time.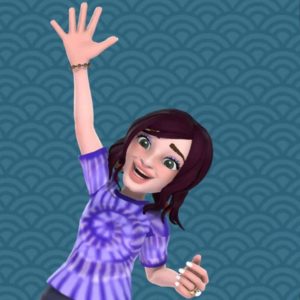 Amber Borden
Amber is an avid gamer. The first game she ever played was Super Mario Bros on the NES. She has seen many genres of videos games due to her 30 years of gaming. However, Amber typically sticks to RPGs, Sandbox and Simulation.
Since she loves gaming, her first job was at a Gamestop. Also, she has written guides for Gamefaqs. Amber was a full time worker in the retail world, but now she is working on this site from home. No matter what, however, she still plays her video games.
Related Articles